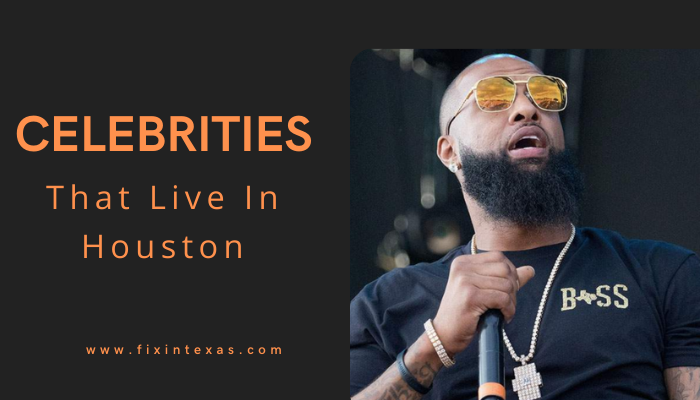 Celebrities like Beyoncé and her Destiny's child are stars from Houston. I'm sure you have also come across names like ZZ Top to Jim Parsons and the Arcade Fire's Butler Brothers. They are all celebrities from this city. What if I tell you that there are others who you are not aware of that life in Houston?
List of Celebrities From Houston
Below are some names of celebs from Houston you should know:
Kenny Rogers
Your list of country music singers is not complete without mentioning Kenny Rogers. His hit song, The Gambler, won him the Grammy, carving out a place in the industry for the rockabilly-influenced singer. It might interest you to know that the famous Kenny Rogers is from Houston.
Lee Majors and His Wife
In 2012, Lee Majors, the actor famous for his role in the movie, The Six Million Dollar Man and the Fall Guy, moved to Houston with his wife Faith to settle down. Lee Majors has also starred in dozens of TV shows and movies since the 1960s. He made his first original city connection through his marriage with his first wife, Farrah Fawcett.
In 2012, Lee Majors and his current wife Faith said goodbye to Los Angeles to relocate to Houston. The couple admits that life in Houston is fun with a lot of people from various cultures.
Joel Osteen
The preacher, televangelist, and businessman Joel Osteen admit his love for Texas city. He currently lives in Houston and is famous for his massive residential apartment. He is also well-known for his many religious publications.
Michael Strahan
The NFL is not complete without the likes of Michael Strahan, who ended his career as the fifth top quarterback sacks in the New York Giants. Strahan hails from Houston and is currently a media personality who has graced many TV programs like:


Michael Strahan ranks as one of the greatest defensive NFL players in history. Who would have known that he lives in Houston?
George W. Bush and his Wife
The former President of America, George W Bush, and his wife once lived in Tanglewood Houston. It is not surprising that they also own apartments in the city. Their Houston home was completed in 2001, shortly after he was named the 43rd president of America. The house served as the Western White House during the tenure of Bush and hosted heads of state like:
Vladimir Putin of Russian and
The King of Saudi Abdullah bin Abdulaziz
Currently, the former president and his wife reside in Dallas but still retain their Houston apartments.
The Rapper Slim Thug
Slim Thug is popular among friends and fans. He started his career in the Northside of the city of Houston. Slim Thug owns a record label in Houston and has worked with the likes of Beyoncé.
Vince Young
One of the prominent figures of the NFL is Vince Young. He was the third overall draft pick in the NFL. Vince Young is from Houston and was the captain of the Tennessee Titans for five seasons. He later became a free agent after his season with the Philadelphia Eagles.
Shelley Duvall
Have you seen the movie The Shining? If your answer is yes, then you must be conversant with the character Shelley Duvall. She is famous for her ability to portray odd characters in movies. She was accidentally discovered by location scouts at an engagement party for another artist from Houston. She has ever since remained popular in the hearts of her fans and Houstonians who love the character in movies.
Wes Anderson
When you talk of indie filmmakers, Wes Anderson is one personality you can hardly leave out of the list. He is most famous for bizarre plotlines and quirky characters. His movies have:
Visually engaging cinematography and
Splendid Soundtracks
The unique nature of his movies made him grow fast as one of the industry's favorites.
Richard Linklater
Born in Houston, Richard Linklater is a venerated filmmaker known for his distinct style and unique approach to storytelling. While his hometown might be Houston, his movies like "Dazed and Confused" and "Boyhood" have a universal appeal. Linklater often touches on themes of growth, time, and the human condition. With multiple accolades under his belt, he remains one of the significant figures in the independent film scene, and Houston proudly claims him as one of its own.
Beyoncé Knowles
Houston's pride, Beyoncé Knowles, is a global music icon. Born and raised in the city's Third Ward, her musical roots started with gospel, eventually evolving into the pop and R&B superstar she is today. With a plethora of chart-topping hits, her music and activism often intertwine. Houston remains a significant part of her identity, and she frequently references it in her music and philanthropic efforts.
Travis Scott
Another stellar artist from Houston, Travis Scott has reshaped the hip-hop landscape with his psychedelic beats and distinct style. Known for hits like "Sicko Mode" and his Astroworld album, Scott's music is deeply influenced by his Houston upbringing. Apart from his musical endeavors, Travis has also been recognized for his contributions to the city, notably the Astroworld Festival, which pays homage to a closed amusement park from his youth.
Megan Thee Stallion
Hot Girl Meg, or Megan Thee Stallion, hails from Houston and has swiftly risen to the top tiers of rap. With her empowering lyrics and unapologetic attitude, Megan has become an emblem for strong women everywhere. A Houston native, she frequently incorporates her Texan heritage into her music, celebrating her roots while simultaneously breaking boundaries in the hip-hop world.
Paul Wall
Paul Wall, the "People's Champ," has been an integral part of Houston's rap scene. Known for his laid-back style and love for custom grillz, Wall has represented the city in the hip-hop community for years. His music offers listeners a taste of Houston's vibrant culture and the dynamic southern rap scene. While he may not be as mainstream as some of his contemporaries, Paul Wall remains a beloved figure in Houston and beyond.
Conclusion
There are many more of your favorite celebrities that you may not be aware are from Houston. With a little internet search, you might be surprised at what you will find. Here are some more posts from Fixin Texas about the celebrities:
Are there other celebrities we might have missed out on the list? You can tell us more about it in the comment section. We will love to hear your opinion.